We offer a  6 day per week shade sail cleaning service in the Gold Coast region for sails of all shapes, sizes and types.
Shade Sail Cleaning Services
Shade sails are generally removed from the structure and cleaned on site with a combination of high pressure water and pH neutral cleaning agent which does not harm the material or thread.
If any problems are found with stitching or hardware we will repair either on the spot or back at our factory as necessary.
Once cleaned and/or repaired your shade sail will be re-installed and tensioned the following day.
Solid Vinyl Sails/Water proof sails
For solid vinyl sails we clean them in place as they are prone to damage if removed. Cleaning is done with a combination of high pressure water with cleaning agent and  soft brushes.
We offer a scheduled shade sail cleaning service for domestic and commercial locations around the Gold Coast.
Regular Shade Sail cleaning and maintenance will ensure that you get the maximum life from your sails.  Regular cleaning and maintenance should be done every once or twice per year.  To minimize the chances of shade sail damage the owner can do the following themselves:
Hose down your shade sails on a regular basis.
Use a soft brush/broom to clear away any debris.
If would like to make a booking now please fill out the enquiry form below or phone 0419 641 851.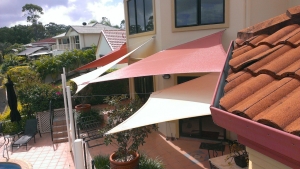 Shade Sail Cleaning Enquiry Form