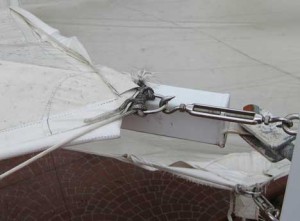 Shade sails are a highly affordable, low maintenance shade solution for gold coast homes. However, the Gold Coast sun, sand, salt and breezes we all love take their toll over time. Luckily for you, Absolute Shade offer a complete range of reapir and maintenance services including:
Gold Coast Outdoor Shade sail Storm/Wind Damage Repairs
Emergency sail repairs including re-sewing and patching.
Shade sail replacement (10 year warranty on materials)
Replacement, repairs and re-strengthening of points, posts, cables and sail hardware.
Insurance Quotes
Gold Coast Outdoor Shade Sail Maintenance Services:
Most shade sail owners neglect to maintain their sails until it is too late. Poorly maintained sails often cause damage to cars, homes and even people when a  cable gives way allowing the sail to whip freely in the wind. Make sure you inspect your sail at least every 2 years. If your shade sail is slack, showning signs of wear or has any rusty components give Absolute Shade a call and have a professional inspect your shade sail ASAP.
Our Absolute Shade Professional offer:
Shade Sail Cleaning
Post and roof point cleaning
Sail retensioning
Shade Sail Safety Inspections
Sail repairs and replacement.
Replacement of old sails
Replacement of structured covers (colourbond, fibreglass or platic sheeting)