Carport Shade sails can be very effective for shielding cars from the harsh Queensland sun and maybe waterproof or non waterproof. Using the best quality Rainbow Shade Z16 fabric, also long 10-15 yr PTFE thread and stainless steel, your car will be protected at all times from the high UV rays. Offering up to 98% protection.
The following are the benefits of having a carport shade sails:
Protect your cars and vehicles from the sun – Carport shade sails provide not only quality protection from the sun but a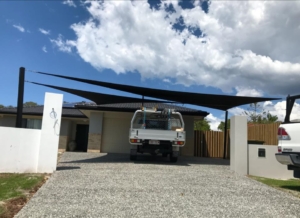 lso other weather conditions that may damage your car.
Protection from heavy rain – Heavy rain can fill your doors and leave a moist oder in your car. Sometimes damage the electrics . With a shade sail most of the rain is directed towards low corners and come through the fabric as a mist or drip.
Bird or Bat Poo – Bird poo is highly corrosive and may leave a mark it your paint if left on in the sun.
Feature the front of your house – Some older homes may look a little plain from the front. A shade sail will break up the angles giving it a different look.
Affordable and effective – There are many options for shade sails that you can use to protect your carport.  At Absolute Shade we provide the best quality materials at reasonable prices and can offer a wide range of fabric and colours to get you the Carport Shade sail that fits the style of your home.
Carport Shade sails not only provide effective protection but also increase the value of your property and can substantially improve how your property looks.
For a quote regarding carport shade sails.  Absolute Shade Sails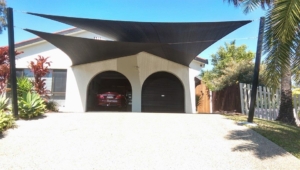 contact us today.